Reach customers on the move without a card machine or a website
To take a payment over the phone you and the customer both need to be available at the same time. Busy schedules can make it difficult to find a mutually convenient time. With a payment link, you can send the customer a link to follow so that they can pay at their convenience. They can pay wherever they are, for example, using their mobile device.
To send a customer a link:
1. Sign into Cashflows Go.
2. From the Cashflows Go menu, select Virtual Terminal.
3. Select Virtual Terminal Order.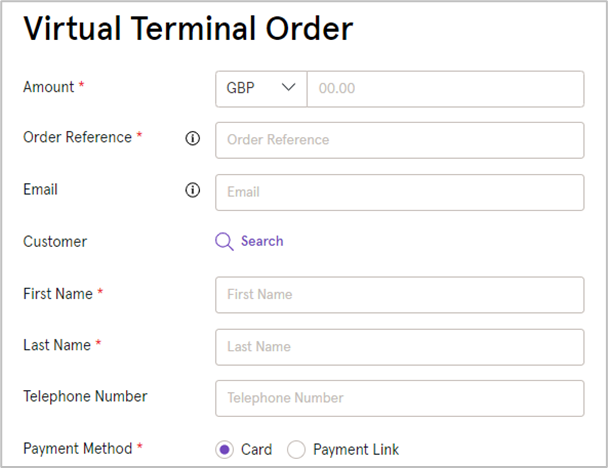 Note: The fields that you see on the screen depend on the how the Virtual Terminal is set up for you or your business.
4. Select the currency that the product or service is priced in.
5. Enter the amount to be debited from the card.
6. Enter a unique order reference. This gives you and your customer a way to refer to this payment, for example the order number.
7. It can be useful to add some additional information as an order note, for example colour or size preference. This is optional.
Tip: To enlarge the Order Note box, you can drag the lower-right corner.

8. If you have stored this customer's details from a previous payment, you can search for them by name.
9. For a new customer, enter their first and last names.
10. The default Payment Method is Card. To send a payment link, select the Payment Link The card-related fields are no longer displayed. The customer enters their on card details when they receive the payment link.
11. Select Create payment link. A link is created for you to copy and share in a secure way with the customer.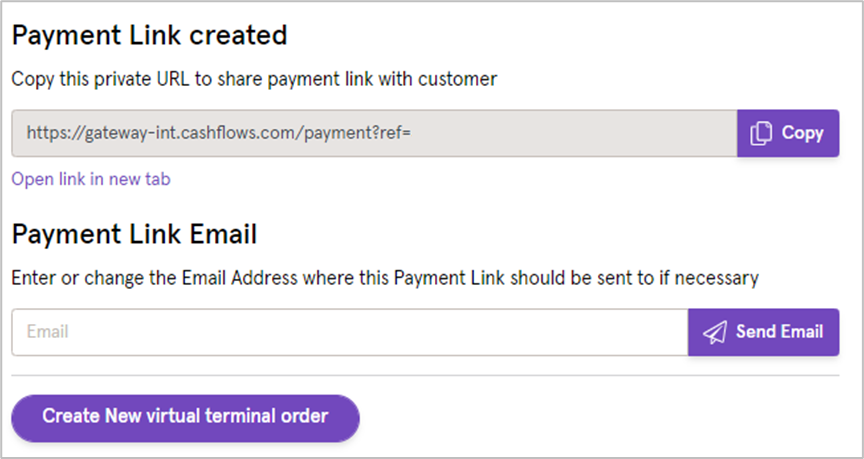 You can either:
Use the Copy option to copy this link from Cashflows Go into your own email system, an invoice or text message and send it to the customer
Send the link in an email directly from Cashflows. The email is sent from
no-reply@cashflows.com
12. If an email address is already stored for the customer, it's filled in for you. If not, enter the email address to use for securely sending the payment link to the customer.
13.Select Send Email. The customer receives an email with details of the purchase and a button to select to make the payment and complete their purchase.
Tip: It's possible to configure the Cashflows Go settings to include your business logo in these order confirmation and payment emails. For information, see the Cashflows Go Guide.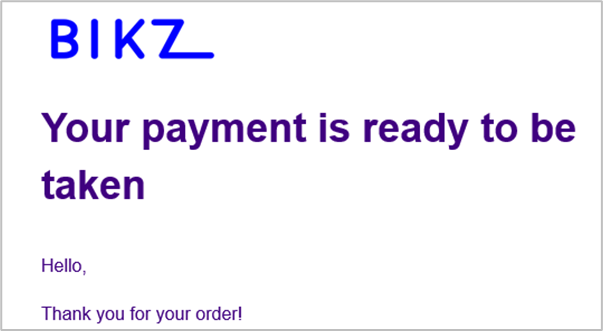 When the customer selects the link in the email, a payment page is displayed. The order details are already filled in. The customer only needs to enter their card details and pay.
Important: Payment links are valid for six months. If a customer tries to pay but is unsuccessful, they have 15 minutes to retry, for example with a different payment method.